You decided to buy something, but you don't have enough money? These two rifles will be cool options for you in any situation. A series of articles about the spray of different weapons in CS: GO from SCOPE.GG continues with a story about Galil AR & Famas.
Why do I need this article?
- learn more about each weapon in the game, its features and features that will help you improve your shooting skills
- understand the spray patterns of each individual weapon and learn how to control it
- learn how to analyze your own spray and bring it to perfection
35 rounds for$1,800? Galil AR is the perfect tool for your force buy
Galil AR is the weapon available for purchase only by terrorists. A great option for purchasing during force-buy rounds.
This rifle is a cheaper analogue of the AK-47. Having a high rate of fire and 35 rounds of ammunition in the store can often be an excellent solution if you do not need to buy additional grenades. It is worth Recalling that the disadvantage of this rifle is less damage compared to the same AK-47.
Cost in the game - $1800
Galil AR shooting damage
Advantages
It is one of the most rapid-fire assault rifles in the attack: 666 compared to 600 in the AK-47.
It has a relatively low price in its category - $ 1800.
It has 35 rounds in the magazine.
It has the ability to deal good damage to an armored enemy. The only exceptions are hits to the head.
Easy to control returns.
Disadvantages
Deals non-fatal head damage to an enemy wearing a helmet
It has low accuracy over long distances.
It has a large spread of bullets, which is almost impossible to control in motion
Features of shooting from Galil AR
Since Galil is quite good at short and medium distances, shooting short bursts of 3-4 bullets will bring the greatest efficiency here, but this assault rifle should not be used at long distances.
Because of the rifle's high rate of fire, you'll have an advantage at close range against virtually any assault rifle your opponent has.
High mobility for only $ 2,050 or why you should choose Famas in the purchase "on the latest"
Famas is a cheap niche solution with good mobility when playing for protection. It is a suitable option for both force rounds and full-fledged rounds, for example, in the initial stage of a match or purchases "for the last".
The rifle has a 25-round magazine and has as many as 2 shooting modes: automatic and 3-round shooting.
The cost in the game is$2,050
Famas firing damage
Advantages

Cheapest assault rifle when playing as a Counter-Terrorist - $2,050
Thanks to two shooting modes, it has greater mobility and can be used at almost the same efficiency at different distances.
It has a low return
Disadvantages
Has relatively low damage for an assault rifle
Automatic mode is characterized by low accuracy
Inferior in rate of fire to most rifles
It has a small-capacity magazine
It has a long cooldown time
FAMAS shooting features

Famas is great for playing at medium and short distances. With an optimal fire rate of 2-4 rounds, it can effectively deal with an enemy who has heavy rifles in his hands. This is achieved due to a good rate of fire, as well as a good penetration ability.
Automatic mode is extremely effective at short distances. And with proper training, it can even be more mobile than the M4.
Don't forget about the burst mode. Unfortunately, many players rarely use this mode, but it is worth noting that bursting is quite accurate at long distances and has almost no recoil. However, the maximum efficiency is achieved only in the case that you are not moving.
Remember that some of the shortcomings of Famas can play a cruel joke on you. Keep them in mind and try to keep at least half of the store in stock.
An experienced opponent knows that shotguns are extremely effective at close range against a Famas player. Knowing this fact will help you on maps like Mirage or Inferno. It is better to check the angle, than not to check it out.
Spray from Galil AR and Famas. What to choose and how to turn disadvantages into advantages

Knowing the characteristics of each of the assault rifles, you can start analyzing the spray and then control the recoil. It is certainly important to note here that both Galil AR and Famas have a unique spray pattern, unlike what we are used to in M4A4\M4A1-S or AK-47.
This feature is due to the fact that the first 4 bullets from Galil AR or Famas fly more accurately than their "older" brothers. Here we recall the AK-47, in which only the first two bullets have absolute accuracy.
Remember, knowing the spray pattern of the rifle will help you control your shooting more effectively in clips of 4 or more bullets. And although this type of shooting from each rifle is not very effective due to the high accuracy, in unexpected situations you have a better chance of killing the enemy.
The gifs below will help you with spray training from Galil AR and Famas.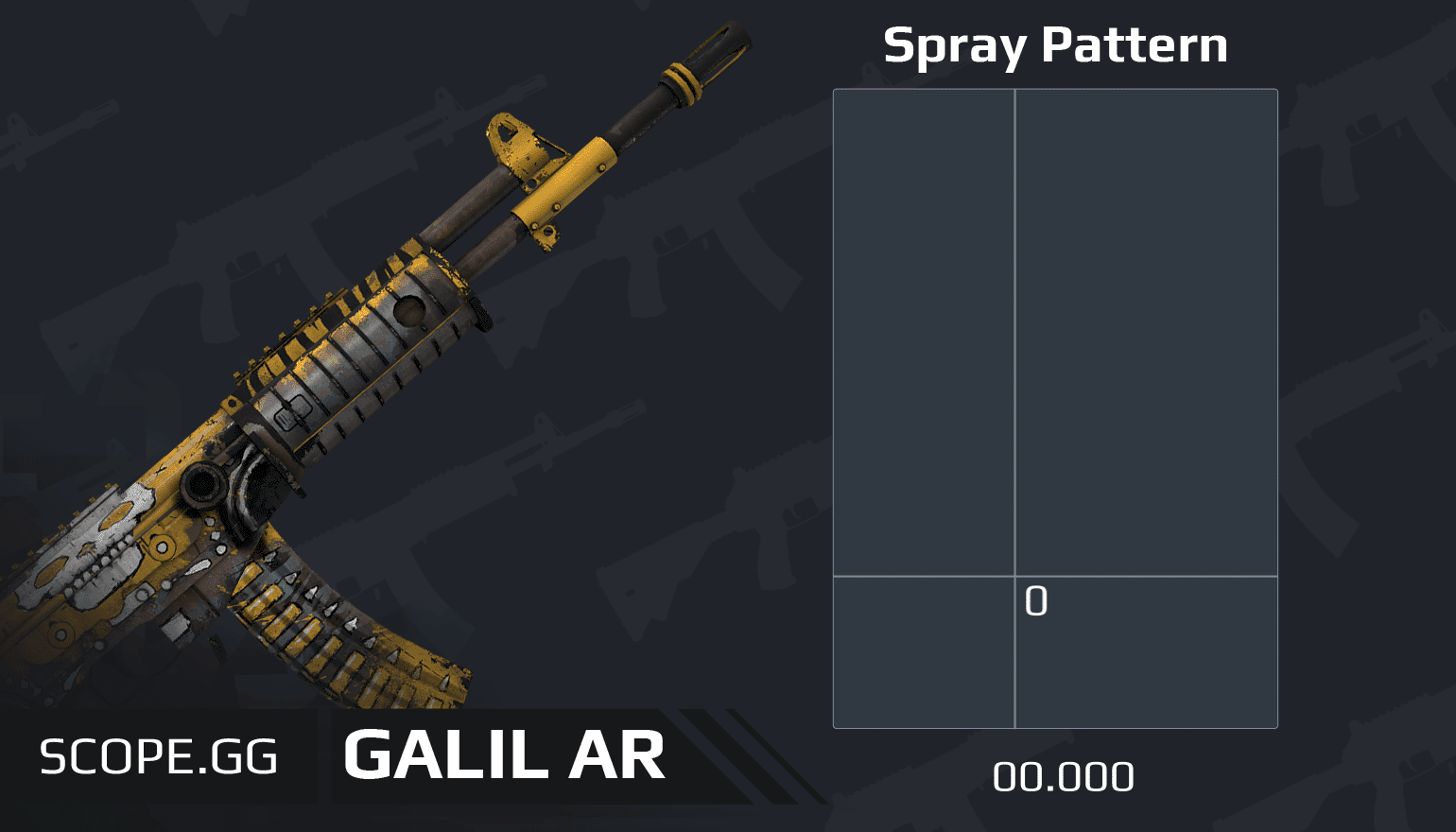 This is how 30 bullets fired from Galil AR fly, if they are not controlled in any way and rely on luck.
And in the GIF above, the player with Galil AR became a real Superman, who managed to hit all 30 bullets along the perfect spray trajectory.
To give the difference between spray from Galil AR and Famas, compare spray pattern and recoil control.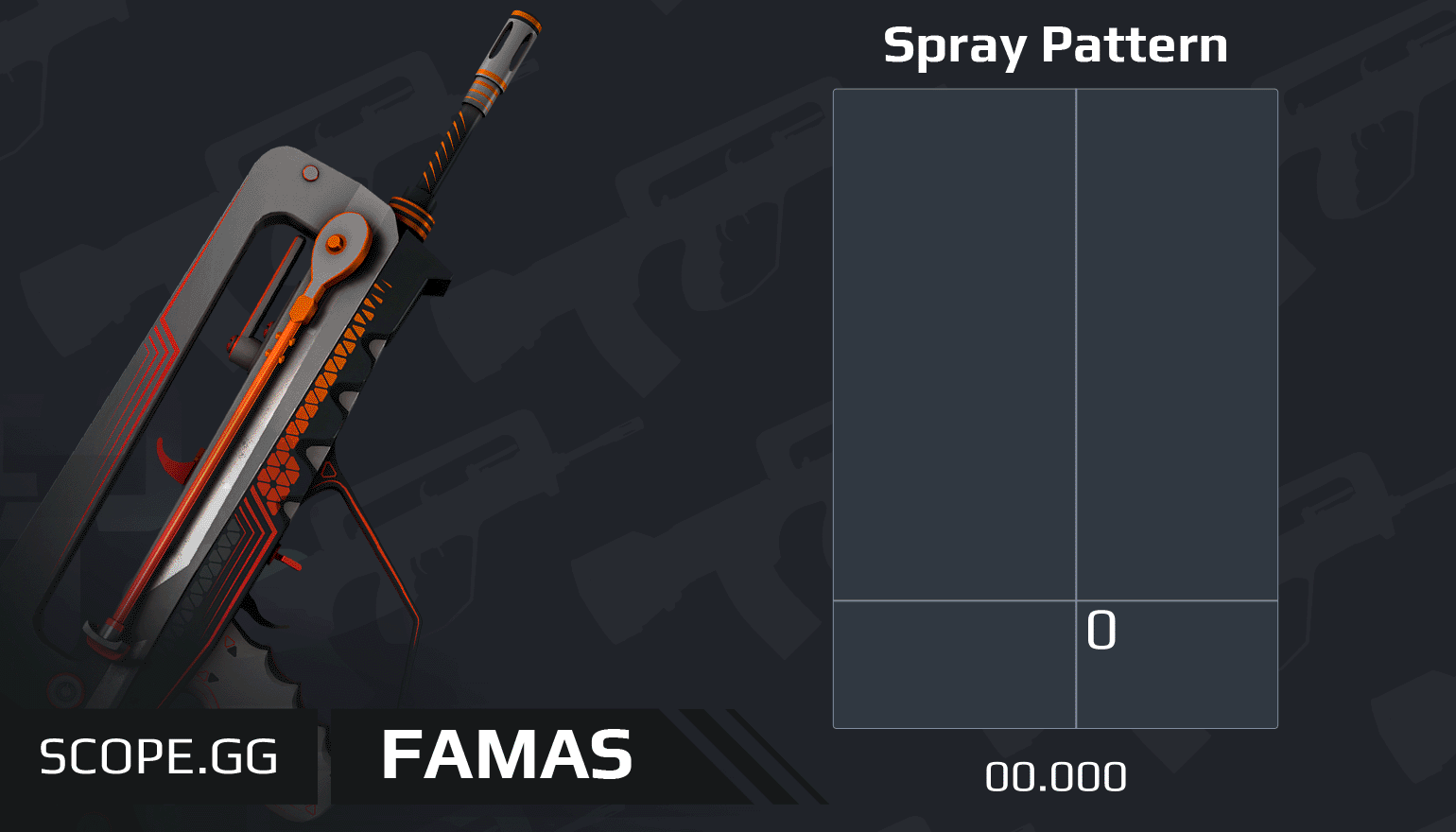 All the same 30 bullets, but already from Famas, if they are not controlled in any way and rely on luck.
And here is perfect spray control of all 30 fired bullets from Famas.
Interestingly, the Famas spray is more accurate, even taking into account the fact that the spray itself from each rifle is not the most effective way to shoot.
A couple of tips will help you avoid the most common mistakes when spraying from Galil AR and Famas:
Control the spray length and combine short sprays with straights
If you want to use your spray more effectively, then remember that mouse movements when controlling recoil should follow the "down-left-right-left"pattern. This way you will be able to synchronize your shooting with the perfect trajectory of the bullets.
Train spray from Galil AR and Famas. Most often, players forget about training these rifles, although it is quite useful for everyone. With the ability to shoot well with cheap assault rifles, you have a greater advantage over your opponent. In addition, training the Galil AR and Famas on average will require more time than training any other rifle.
Spray at long distances will bring almost no result, but only increase your vulnerability to an experienced opponent.
It's always good to get motivated before an effective workout.
Take a look at how s1mple deals with opponents with Famas spray.
The most effective ways to train the spray and control the recoil of Galil AR \ Famas are the methods that we described in the article about AK-47, but we advise each player to choose only a couple of the most convenient types of training for him. Good luck on the force buy rounds!
Register on the SCOPE.GG. For convenience, we left the button at the bottom of the article. A couple of clicks and the site functionality is in your hands: clutches, demos, throwing grenades, match analysis and much more! Scope.gg - we know everything about your stats and a little more!
Do you want to learn more about the spray from other guns in the game? Subscribe to our newsletter by clicking the button below ;)

---